Vietnam: making disaster law accessible and fun for community-level dissemination
Despite flooding across several provinces, and a soaked International Disaster Risk Reduction Day ceremony, Vietnam Red Cross, the Women's Union and IFRC gathered in Vinh, Nghe An province to participate in the 'Know Your Rights, Roles and Responsibilities in Disaster Management' (Know Your 3Rs) 13-14 October 2017.  This was the first   Training of Trainers (ToT) on Disaster Law Community Dissemination to be held in Vietnam.
The training included sessions on   disaster law and Vietnam Red Cross law, it also drew attention to   key  community messages drawn from Vietnam's Natural Disaster Prevention and Control Law, which had been developed through a process that included a national and provincial roundtables held in September 2017.
Participants joined in role-playing exercises and games, including a walk-through scenario developed for the Vietnam context and a jeopardy-style quiz. Lively discussions, laughter and acting talents broke out in the room. The various activities are will be modified as appropriate and integrated into existing Red Cross community-level programs.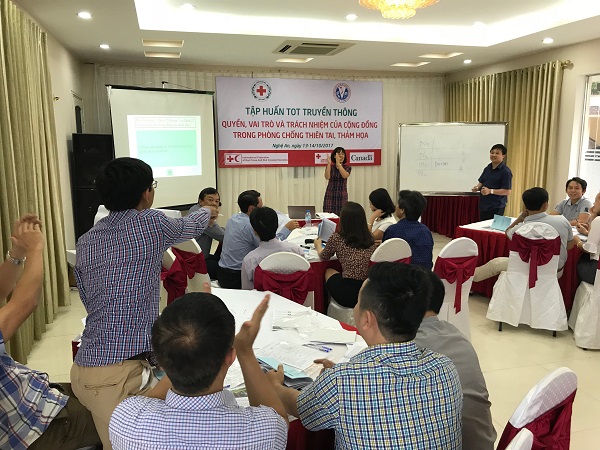 On day two of the training, the roles were reversed. Participants were invited to design and implement sessions plans on how they would run community programming for rights, roles and responsibilities in disaster management. Facilitators and other participants took on the roles of community members.
At the conclusion of the training, all participants were asked to develop a Plan of Action to incorporate these key messages and activities in existing programmes. Recognising that this training was the first of its kind in Vietnam, the facilitators welcomed feedback on the modules, which will inform the revision and preparation for the three remaining ToT's  to be rolled out by the end of this year. All participants were in strong agreement that increasing community level awareness of 3Rs is crucial to increase resilience to disasters, and must be accompanied with practical information on how community members can exercise their rights and fulfill their responsibilities in disaster management.
To read more about disaster law, click here. For more information, contact Gabrielle Emery at gabrielle.emery@ifrc.org