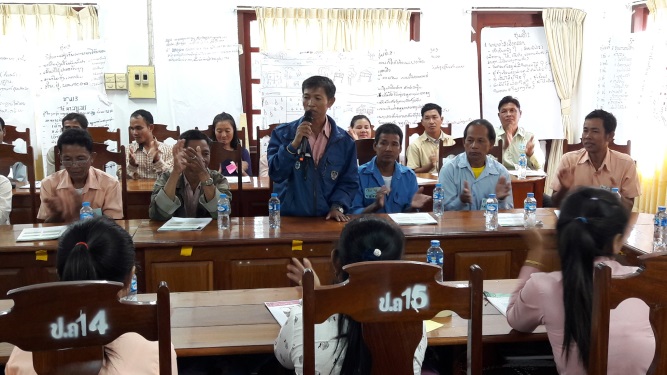 The training on Epidemic Control for Volunteers for village health volunteers, head of villages, and community school teachers was planned and organized during 19-21 December 2016 in Muang Prathumphone, Champasak Province, the southern part of Lao PDR and Lao-Thailand border crossing area (Pakse, Champasak and Chong Mekm Ubol Ratchathani province).
Dr. Bounma Xayasouk, Director of Department of Health Promotion, Lao Red Cross reported that the epidemics in the southern provinces have been happening since late 2011 in Attapeu, Champasak, Saravan, Sekong and Savannakhet. In 2013 and 2014, Lao Red Cross implemented the malaria prevention project in 20 villages in 3 districts of 2 provinces (Champasak and Sekong). Previously, in 2013, the Epidemic Control for Volunteers (ECV) training course has been organized by Lao Red Cross for healthcare staff from the headquarter and other 15 provinces. The training documents were translated into Lao language for the said training. After that, the training could not be extended to other staff at district level due lack of financial support and staff turnover rate.
The Ministry of Public Health estimated that without immediate interventions and effective actions for health promotion and control, Lao PDR could have 61,000-120,000 dengue cases in every year. Meanwhile, in 2013, dengue cases were reported in Champasak Province. From about 5,404 cases, the populations in 7 cases were found dead. As of November 2015, 1,313 dengue fever cases were diagnosed in this epidemic area.
This year in 2016 Lao Red Cross considered to urgently provide health interventions and reach the local communities and vulnerable populations in these affected and high epidemic areas with effective communication and health-education strategies. The tools of ECV have been implemented and useful for the community volunteers in the previous years.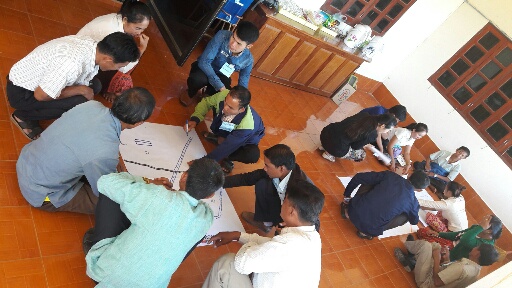 There were 31 village health volunteers, head of villages, and community school teachers invited to participate in this ECV training (Male 21, Female 10 ). The four sessions of epidemic response cycle, principle of epidemiology, community tools, action tools, and disease tools with ECV manual in Lao language were employed. The group work discussions, "Zap that mosquito" game and home-visit health-education role plays and health education practices using the community tool focusing on four diseases – Dengue & Zika, Malaria, Diarrhea, and Respiratory infections were highlighted and demonstrated to all participants, and community mappings and epidemics seasonal calendar were trained. The results of the pre/post-test of True /False/Not Sure quiz showed that the participants' knowledge were significantly improved from 66% to 98% respectively. The expectations of the participants were met and satisfied.
At the end of the training, Mr. May Sisouvong, Head of Nakham village said, "This training is very useful and easy to follow up by a group of community volunteers, especially the head of the villages and village health volunteers by using it during the diseases epidemics. I understood more about the epidemics' cycle and he committed to bring all the new knowledge and new health interventions learned from the facilitators back to my village and community by communicating and educating via a loud speaker to our local villagers in order to improve their behavior to prevent and control malaria and dengue in the village."
Mr. Thongphoun Phothivong, Teacher, Nakham Village School, said, "I really like the facilitation methods and training materials. The training package of ECV manual will be very useful to apply for school curriculums, especially for the subject of health education and environmental study and society. This will benefit our students in the school as they will get to know the information about the diseases, transmission and prevention and control. Hand cleaning steps and information about mosquito-breeding sites to avoid mosquito bites using nets are very useful for the students and local communities to do it to prevent them from malaria and dengue and Zika diseases."
Miss. Sengphachanh Zaizanapanhya, Teacher, Oudomphanh Village School mentioned, "This is good timing for ECV training and we are waiting for this kind of training and workshop. I have never been involved in a training like this, this is my first time and I like it. I have learned a lots during the past three days. I will take all the new skills and updated knowledge back home and talk to our students and villages. I will help our community to prevent and stop malaria and dengue forthe poor people in the communities."
Last but not least, Dr Bounma Xayasouk highlighted, "Next year we are proposing and requesting the support from IFRC about the CBHFA Mosquito-Borne Diseases and Vector Control in helping the vulnerable populations in affected areas, particularly in Champasak Province. This initiative scale-up will be useful for the villagers and communities in preparing for community health preparedness and response to the epidemics and the outbreaks beforehand. We really appreciate the great support and contribution from IFRC which continues the assistance to their people as always. If the resources will be available for the next fiscal year 2017, we will scale up the ECV again to cover more affected local communities."
Copies of the Dengue, Zika, and Chikungunya Toolkit can be downloaded from here: