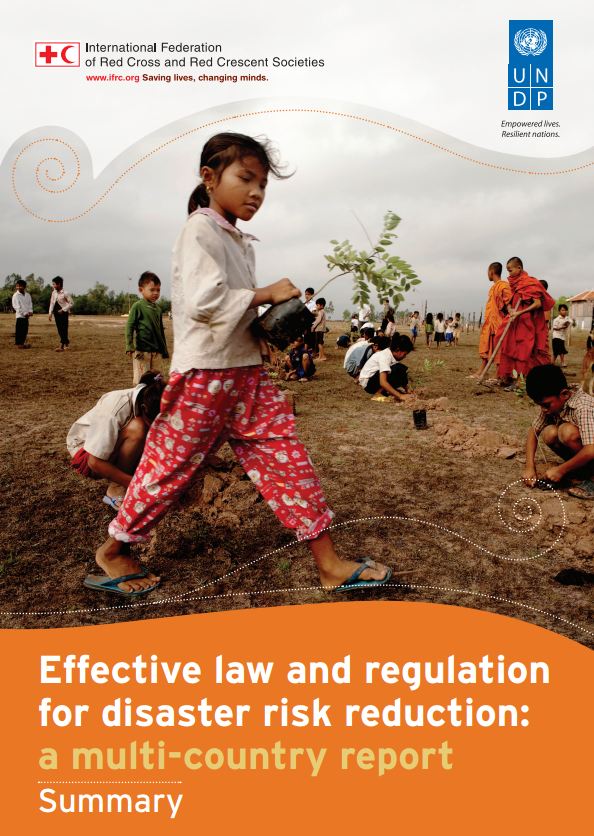 Purpose:
This report aims to support legislators, public administrators, disaster risk reduction (DRR) and development practitioners and advocates to prepare and implement effective disaster risk management (DRM) legal frameworks for their country's needs, drawing on examples and experience from other countries. For this purpose, the report has looked at aspects of different countries' legislation according to how it addresses relevant themes in the Hyogo Framework for Action, as well as issues identified by state parties and the International Movement of the Red Cross and Red Crescent in a 2011 International Conference resolution.
Overview:
The report considers both legislative provisions and stakeholder views on implementation with the objectives to:
present examples of DRR legal provisions from different country contexts and legal systems as a resource for DRM practitioners and legislators;
identify factors that have supported or hindered the implementation of DRR as a priority within DRM laws and selected sectoral laws;
make recommendations for legislators, practitioners, and policy makers engaged in reviewing or drafting DRM laws and selected sectoral laws;
provide an analytical framework against which DRM laws and selected sectoral laws can be assessed at the country level in terms of effective support for DRR.
Target audience: National Society leaders and staff
For a full version of this report, click here

Document Data
Publication date: June 1, 2014
Status: Final Type: PDF Size (MB): Size: 27.1
You might be interested in these resources: